I need professional photos
If you are just starting out or if you have some modeling experience, there is nothing more important for a new face than to find a model agency. Model agencies of the world want to see new faces in their best natural light, so they can decide if the model has potential.
We created the modelmanagement.com Photo Session to provide models with professional photos, with no over-styling or harsh lighting, just the model looking their best for an affordable price.
"My experience was positive, the whole team is charming and makes you feel great" Carmen Marcano Model, Spain
"We try to get the best of models in a relaxed atmosphere" Miguel Pereira Photographer, Madrid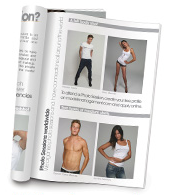 See our online magazine
Be guided by an expert photographer in a photographic studio near you.
Receive high quality photos in a fresh and professional light.
A selection of your best photos are uploaded to your profile by the photographer.
If you want to attend one of our worldwide photo sessions and invest a small amount on getting your modeling career started:
See Photo Sessions