Potrzebuję profesjonalnych zdjęć
If you are just starting out you have some modeling experience, there is nothing more important for a new face than to find a model agency. Model agencies of the world want to see new faces in their best natural light, so they can decide if the model has potential.
We created the modelmanagement.com Photo Session to provide models with professional photos, with no over-styling or harsh lighting, just the model looking their best for an affordable price.
"Moje wrażenia są bardzo pozytywne, cała ekipa jest czarująca i sprawia, że czujesz się świetnie." Carmen Marcano Modelka, Hiszpania
"Staramy się "wyciągnąć" jak najwięcej z naszych modelek w relaksującej i motywującej atmosferze." Miguel Pereira Fotograf, Madryt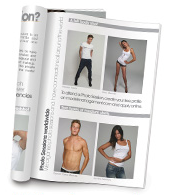 See our online magazine
Korzystaj ze wskazówek profesjonalnego fotografa w studiu fotograficznym w twojej okolicy.
Receive high quality photos in a fresh and professional light.
Najlepsze z dodanych przez Ciebie zdjęć będa wybarne przez fotografa.
If you want to attend one of our worldwide photo sessions and invest a small amount on getting your modeling career started:
See Photo Sessions