This post is also available in: Español (Spanish)
Photographer: Andreas vE
Model: Rania Pugholm
RANIA PUGHOLM. From a modest home to a journey taking her around the world's fashion capitals, appearing on international magazine covers, and over 350,000 fans following her on Instagram.
Rania is one of those people who dazzle you in only two seconds of conversation. And we do not speak only for her long modeling career. From a very young age, she stood out as a free, strong, and brave person. In addition, she is a journalist, painter, dancer, and speaks six languages. While chatting with her, we quickly discover a charming, intelligent, and, above all, very lively woman.
At ModelManagement.com we are very happy to have a model like Rania in our community, not only because of her great professionalism, experience, and explosive beauty but also because she has a great heart and great courage. For all these reasons, she is one of our protagonists in the series "Person Behind the Model", where she shares with us her most valuable modeling career tips.
"The important thing in life is knowing how to find a good balance between work and your personal life"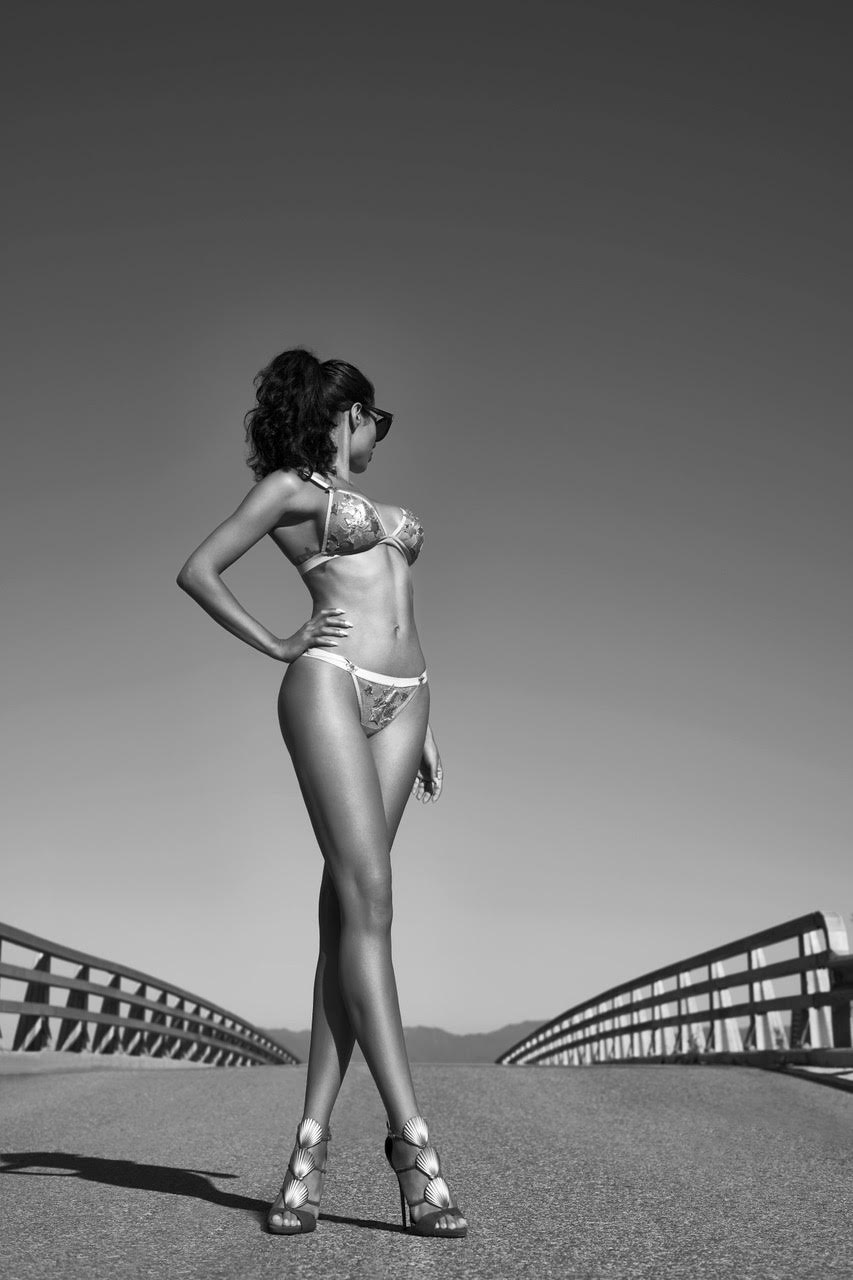 Who is Rania?
Rania is a strong person. I like to take care of myself and I have to do it for my work, but I never stop doing anything that I like. That is one of my mantras. I think that the important thing in life is knowing how to find a good balance between work and your personal life. Also, I like to do so many things. I love painting, abstract, particularly. And I am passionate about pole dance. I like to write, and, above all, I love to travel.
Speaking six languages ​​you will never have had problems while travelling.
It's a hobby for me (laughs). My first language is Arabic, I learned French at school, later I learned German, English, Spanish and Danish, because I wanted to learn the language of my husband's family, who are from Denmark. I didn't have to, but I wanted to learn it too. Speaking so many languages ​​has even made it easier for me to get certain jobs throughout my life.
Rania, just knowing your professional career, you can say very loudly that you are a successful woman, but getting here has not been easy, right?
I was born in Egypt and I left the country when I was 16 years old. As a child, I quickly realized that I was different from everyone else. There is no explanation for it, but I was always curious about many things that were not well seen in my country. I was curious to know other religions, I wanted to know what life was like in Europe, I did not share the rules that my culture was imposing on me… My "strange" thought made me have conflicts at school and in my family and all I wanted was to fight for my freedom.
What gave you the strength to go for it?
One day, I met some European friends. I started hanging out with them and I started to experience freedom when we were together… Suddenly, I didn't have to follow any stipulated path, it just had to be me. So, at the age of fourteen, I moved in with them and I used to call my family to tell them I was okay. From that moment, I went through many ups and downs in my life, for a long time I was a young girl travelling through Europe and the whole world alone. It has taken me a long time to be where I am now.
How did your professional career as a model start?
I made my debut as a model in Germany, after giving birth to my son. I had a friend who was a photographer and he asked me if I wanted to model even though I had never done it before. The truth is that I didn't take it seriously until I went to live in Scotland, where I went back to modeling and I started applying for many castings in London… And later, I moved to Dubai.
So many changes!
Yes, but Dubai was a turning point in my career. It is a very liberal city and I worked a lot as a model, I was able to be completely independent. I did so many castings, I met a lot of people and I also worked as a catwalk model. Dubai was booming as a city at that time and there were many events and congresses where I worked a lot because, besides everything, I speak Arabic. All of this allowed me to travel around the world. Among other things, in Dubai I made my first cover for Playboy, becoming the first Arab woman to be the cover of the magazine.

Wow! So, it was a very important time in your life.
So much! In Dubai work became very serious and since then I have never stopped working a lot. I lived there for ten years, and there I also met my husband, "Mr. Right" (laughs) with whom I recently moved to London.
While you are talking, I can feel your incredible energy and strength. What is the most important thing you have learnt in all these years?
That the secret is to always believe in yourself and to remember that someone who loves you enough will never try to stop you or deviate from what you really want to do. That person will accept and respect you. You never have to stop doing anything that you are passionate about for anything or anyone. People come and go. You cannot give up your life and your dreams for anyone. So, never give up, even if that dream never comes, never stop fighting for it.
"You have to practice to become a good model, everything has its learning process"
What advice would you give to an aspiring model?
I would tell her that if she doesn't look good in the first photos, she really doesn't have to worry. I didn't look good in my first photos as a model because it takes a while to learn to become a good one. Like anything else in this world, you have to practice to get it right, take it as a training. If you don't feel comfortable in front of the camera, sign up for a course, try to learn… I did the whole learning process. It takes a while to become a professional model, so my advice is this: believe in yourself, have a good time – although sometimes there are also bad times – and, above all, be yourself and have a great attitude.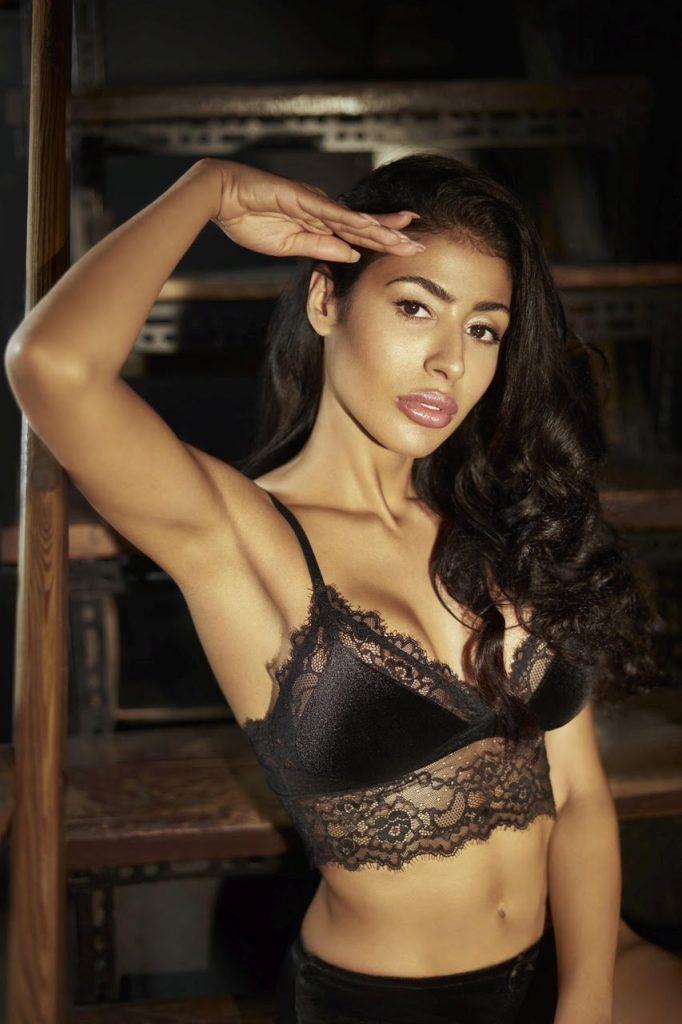 Rania Pugholm by Andreas vE
"There is a market for everyone! If you don't succeed the first time, don't give up, keep trying "
Attitude makes the difference? 
Absolutely! There are always people who are not nice, but you must be nice. Really, when you are kind, sweet and a good person, that gives you much more value than being physically beautiful. When people know me, they tell me that I am beautiful, intelligent, but, above all, very nice. And I love that.
In the world of fashion, it is important to be punctual, too. Of course, you must also be consistent with training, be healthy, and eat healthily but you never have to stop eating or doing anything you want. Enjoy life. There is a market for everyone! And if you do not succeed the first time, do not give up, do not think that this is not for you. Just keep trying.
Which are your main virtues?
My strength is one of them, without a doubt, but there are many things that I like about myself. Spontaneity and being a very social person despite I used to be very shy when I was younger. I am very happy to be who I am, to know how to have fun, and to have the intelligence to be able to talk about many topics. I am very active, I have many hobbies, I love discovering things in the world… Actually, I have been to thirty-seven countries for leisure and work. I am a very brave person.
A woman as active and passionate as you must have many future projects in mind…
Yes of course! I would like to create my own business related to fashion and design… But it really is still a distant future for me, because for now, I want to continue modeling until the model industry tells me that they have had enough Rania (laughs). For now, my goal is to continue doing what I do now because I love it so much.
"It is important to feel a good energy with the photographer because in the end, this is teamwork"
How do you feel in front of the camera?
Comfortable and happy. It is important to feel good energy with the photographer because, in the end, this is teamwork. Sometimes, I have come across photographers with bad personalities and unkind… At first, it affected my mood, but, after so long in the industry, I have learned to talk to them and ask for respect and a good attitude. It is essential that whoever is behind the camera is nice to you.
"This job is an exchange of work and art"
How was the shooting with Andreas for ModelManagement.com?
That shooting was a lot of fun. I remember waking up at 4 am because we wanted to get a concrete lighting and Andreas was very friendly and a very good host. We had coffee and something to eat, and we had very interesting conversations. This is important, not only to break the ice but also to exchange opinions. This work is an exchange of work and art.

Success is hard to achieve. How do you get it?
Success must be sought, pursued. In every country that I have been to, I have tried to contact photographers to share our talent and take good photos. It is important to work with many photographers and thus have a good portfolio, try to meet people, connect with people, attend events related to the modeling and fashion world… The more you connect with international people, the more successful you become. It's about contacting people, making friends, and meeting colleagues.
When, for example, I work with a good photographer and the result of our work together is good, I get in touch with magazines and try to get those images published and have publicity. This is a job in which you have to dedicate hours of your time trying to connect with people and make yourself visible. It is important to be active in Social Media, trying to reach as many people as possible from different angles.