An unfortunate reality of life is that scammers can be found everywhere and within the modeling industry they are rife. The glamorous lure of the modeling world leaves the door wide open to scammers to make especially younger people very vulnerable. Who wouldn't want to sign a contract or get a job that shows you can earn a huge amount of money with multiple zeros at the end of the number, for very little effort?
ModelManagement.com has been fighting scammers since day one. Scammers would love to have access to our platform, but you can rest assured that we work extremely hard to stop them and for some time now we have had a dedicated Safety and Trust team set up with the sole purpose of stopping scammers.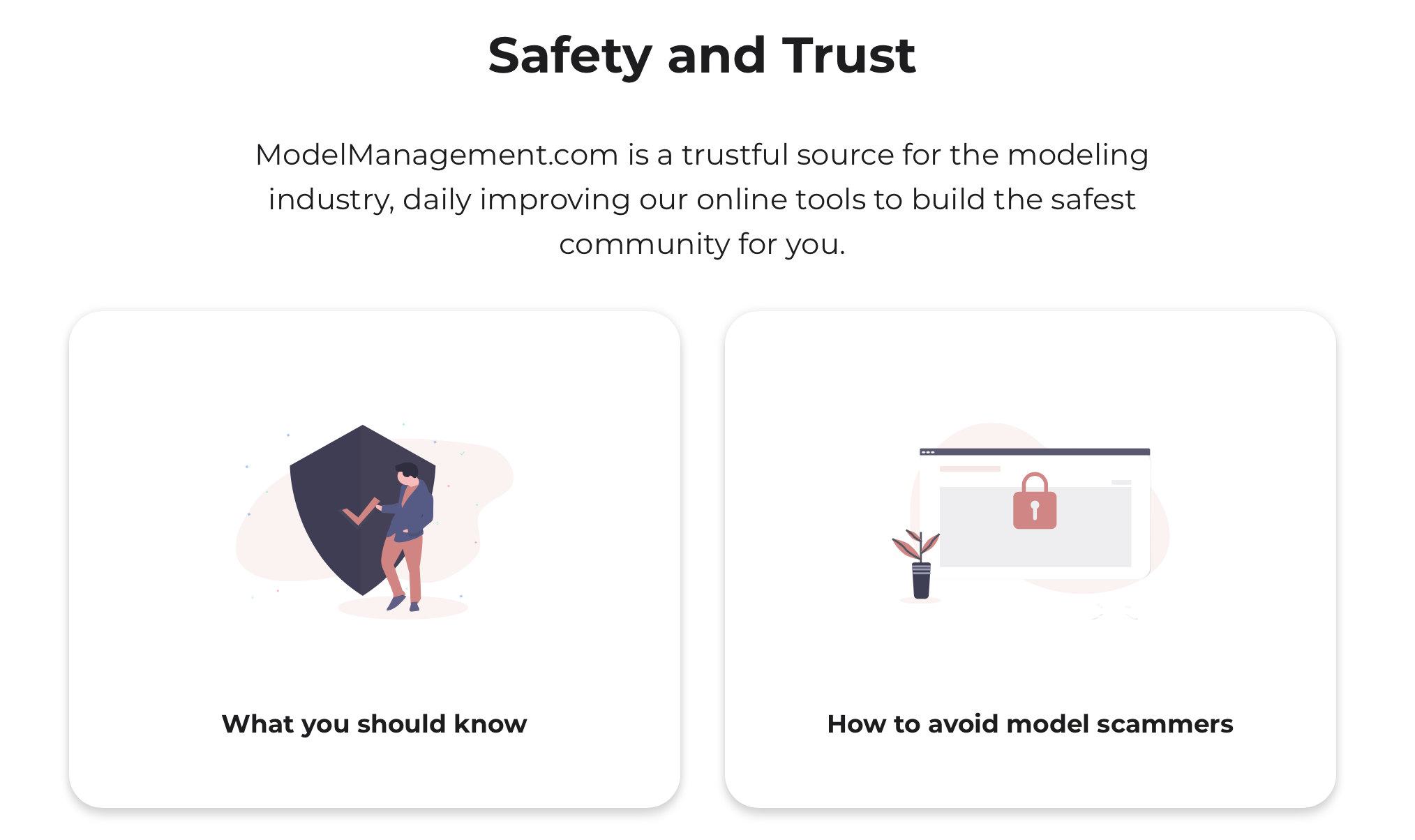 Let's discuss for a moment exactly how scams work
A scam is where one person (usually pretending to be someone else) tricks another into parting with their money. There are many examples of scams and here are just a few:
You are being promised big salaries
One of the most typical modeling scams would be for the scammer to tell a model or someone who wants to be a model that they have been selected for an amazing project with a big brand, or a role in a new movie where the payment the model will receive will be in the thousands and sometimes even millions of dollars (or whatever the relevant currency is). The model's trust is gained through a couple of emails or text messages and they are convinced that the client wants only them. There are cases where the model may not have even applied for that job.
You have to pay a fee before they do any work with you
At this point the scammer will explain that the model will need to pay some money upfront (yep, you guessed it already, but it's much easier to guess in an article about scams) and the model will get the money paid back to them with their first BIG pay check. What could go wrong? Sure you have to pay out some money, but that's nothing compared to what you'll earn. It's just that you won't earn it. You won't earn anything. you'll send the money in good faith and wait….and wait….and wait. Until you realise that you've been scammed!
"If you don't act now, there won't be another opportunity"
Don't be pressurized by someone telling you that you need to say yes fast! Take your time to analyse the information. Any big job that's worth lots of money would normally be part of a longer process that would include back and forth with clients, ad agencies, photographers, directors etc and if someone was interested in you there would be time to discuss it properly. If you really do have potential and you do have all that it takes to become a model, you will not only have one chance! The best thing to do with these kinds of offers is share the information with parents, friends other people already in the industry and get their opinion.
They guarantee you will get work for sure
If someone says they guarantee that you will get work, take a moment to think about it. It doesn't matter how great you look nobody can guarantee you will work, it's like saying I guarantee the weather will be sunny all day tomorrow. Nobody has a crystal ball, so scammers use these kinds of terms to get you to part with your money. The best thing you can do is work with reputable professionals, agencies and companies and try your best to succeed in modeling by working hard and applying to verified castings.

Scammers can pretend to be modelmanagement.com or other company
It's very easy for scammers to pretend that they are someone else or even pretend they are a company. We see this daily, as scammers are constantly pretending to be us. The words Model Management are put into a document or within an email, yet the email address is not our email, or there's a phone number that's not our phone number.
Check out these real examples below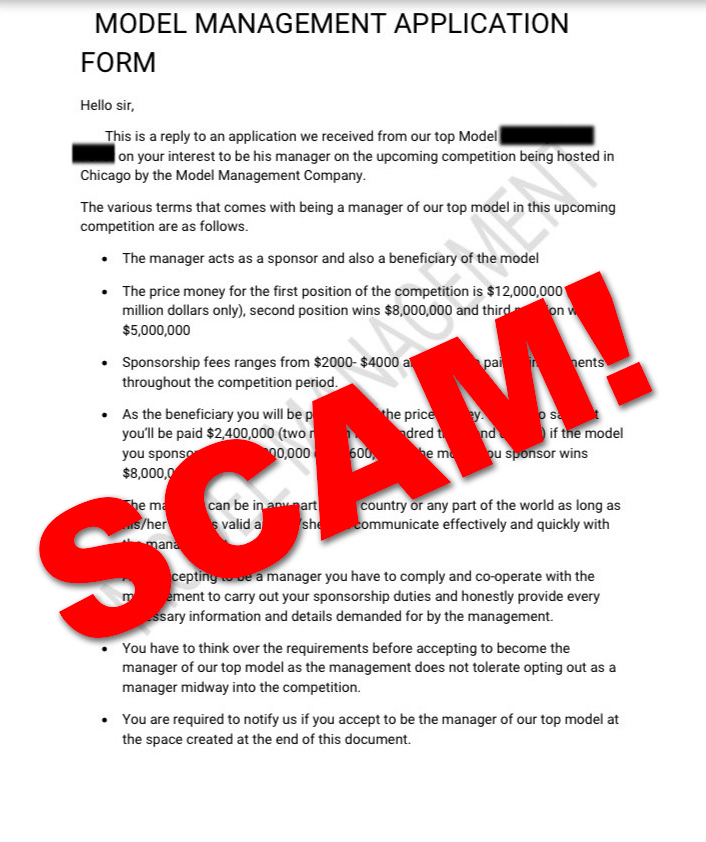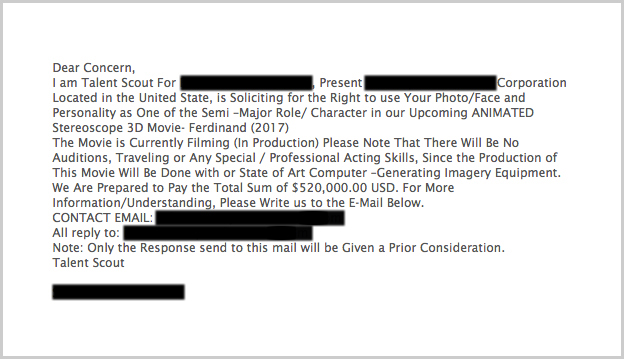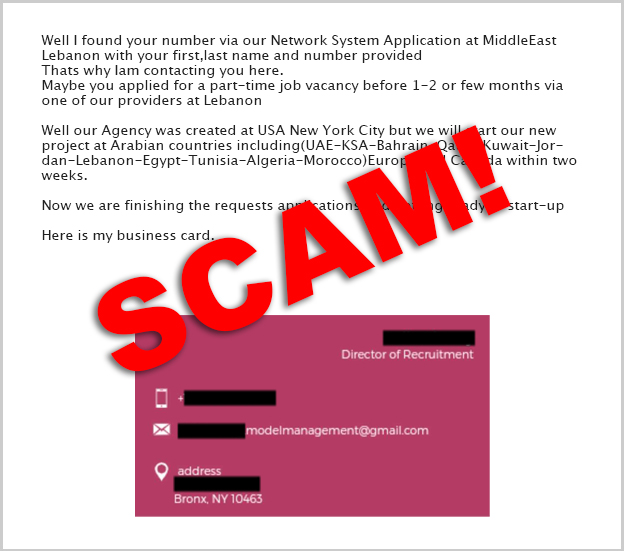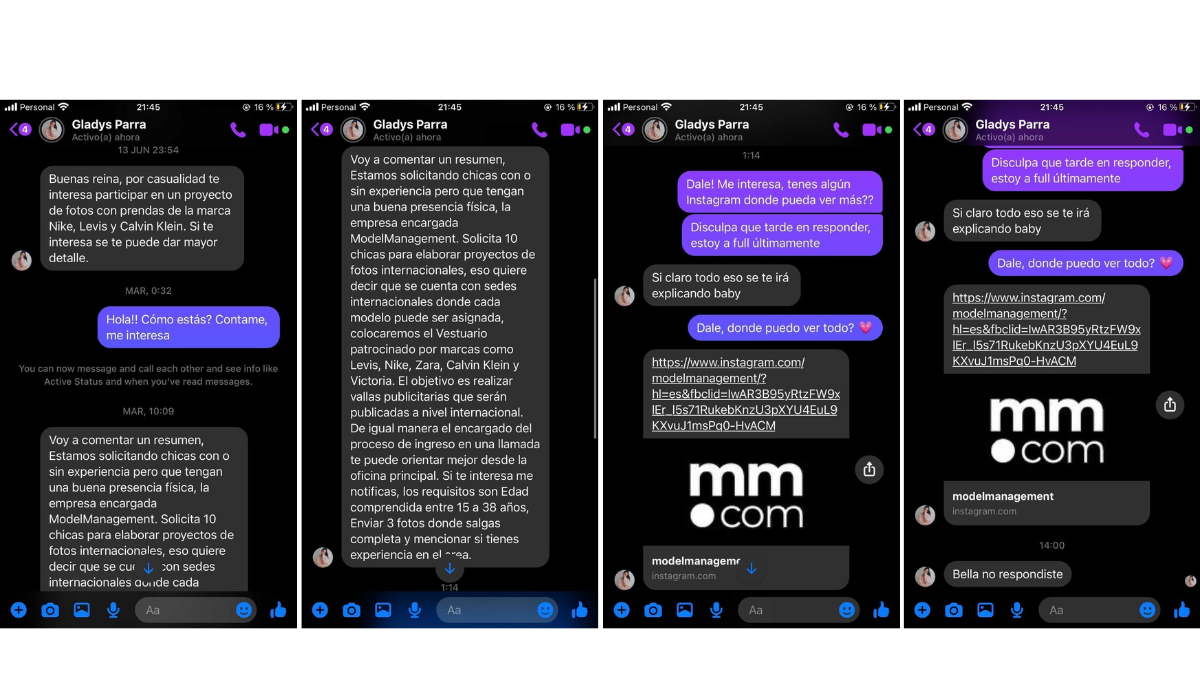 Other scams include:
Model agencies that ask for lots of money upfront and for you to sign away your career for world rights and forever. Sounds intense, but it's true and we have seen examples of these contracts.
People who pretend to be in the industry and say they are a scout, agent or producer, but they are actually working for porn sites.
Photographers who really don't want to shoot with you but are trying to see you without clothes on.
How do you protect yourself from being scammed?
Follow these guidelines and you should be fine:
1. Verify the person, company and website. Check for their name online on Google and see if they look legitimate. When a person is impersonating another you could always call them or send a confirmation message through their website to check that they really did contact you. Remember to use the contact details on their website and not the ones you may have received from them.
2. Check with your parents or good friends.  Ask them to read this article to make sure you all understand what risks there could be, as sometimes friends can get as excited as you might have been! It is also very advisable to go to any live castings, meetings or shoots with a parent.
3. They say they work for ModelManagement.com. Always check with us and wait for a response from our team. Contact us on [email protected] There is only one ModelManagement.com and we are a modeling platform and community, not a modeling agency or model managers.
Very important!
Please have in mind that the only email addresses that are used by ModelManagement.com have the domain @modelmanagement.com. We do not use any other email service providers (gmail, yahoo, hotmail or others). Someone may contact you using such email addresses like [email protected] or other similar domains like [email protected] to deceive you. Be careful, do not reply to these emails and let us know about it!
4. Always read the small print of any contract. If you are told to sign a contract, never feel pressured into signing it immediately without really understanding what you are signing. Anyone who pressures you into signing it when you have doubts will not be the type of person you want to work with anyway. Some people feel big by using intimidation, don't buy it, there's always time to think something through.

5. Never send money to anyone. No matter how tempting or amazing an offer may be, don't do it as you won't see your money or that person again.
6. Sign a contract before the shooting. Before doing any job make sure that the person in charge of the project gives you a contract to sign from both sides, which guarantees the payment and image use of the content created. Modelmanagement.com is the only modeling platform provding Smart Digital Contracts. Ask for a digital contract here.
7. Use booking service on modelmanagement.com. It ensures that you will be paid. Check out more here
Remember that most people and companies are very professional and it's only the few bad apples that spoil the barrel, so stay wise and please leave comments below with any bad experiences you may have had, so our modeling community can stay safe together ♥
Reported to us on Friday, March 20, 2020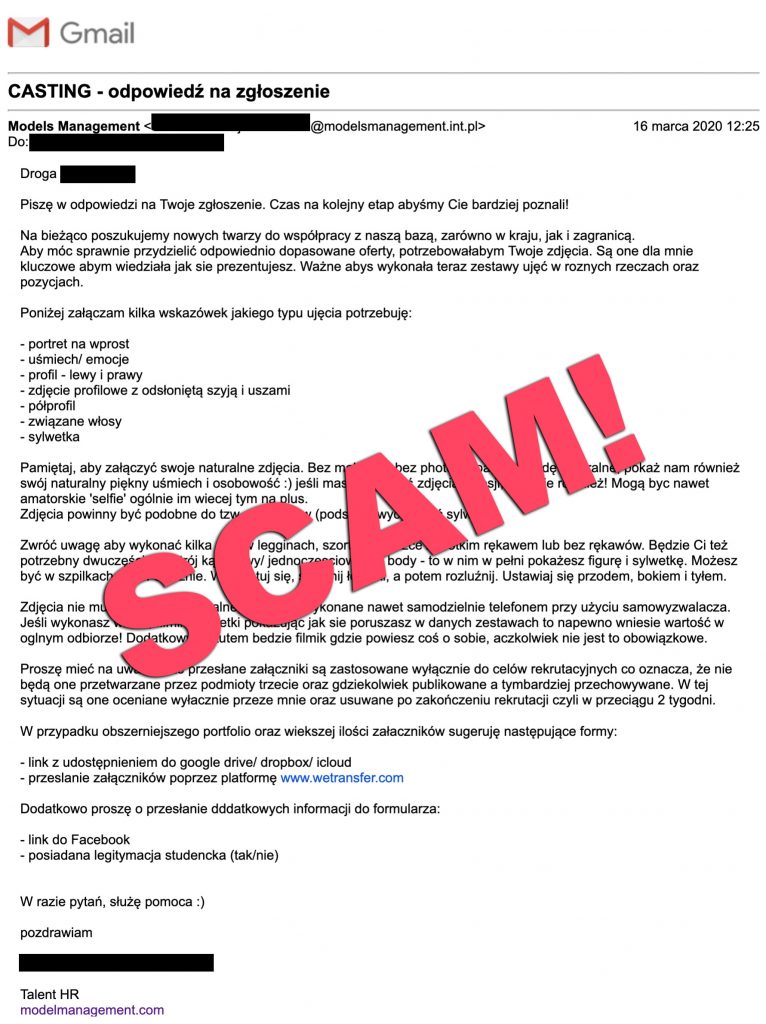 Reported to us on Thursday, March 26, 2020