This post is also available in: Español (Spanish)
Photographer: Andreas vE.
Models: Ninette Shibara, Luana Giorgio and Valentina Rudenko.
Stylist: Ricardo Moscoso > Escola d'Art i Superior de Disseny Llotja.
Location: OAK Villas PGA Catalunya
NINETTE SHIBARA, 30 years old. Barcelona
How to connect modeling with other professions is a question Ninette Shibara can answer. She is a pharmacist, model and much more, an energetic and tireless woman who proudly explains her lifestyle to us, in which she has been able to create a perfect balance between the time she dedicates to work and to her personal life. Ninette defends that modeling is accessible to everyone regardless of physical diversity or age.
Who is Ninette?
I am a positive woman and passionate about life, I am very open-minded, I like to experience everything I can and I feel very lucky, not by luck, but because all my effort has been worth it and everything has gone well for me. I am a person who lives life trying not to waste it. I avoid being bored or embittered. I live life to the fullest and try to transform mistakes and bad things that have happened to me into lessons.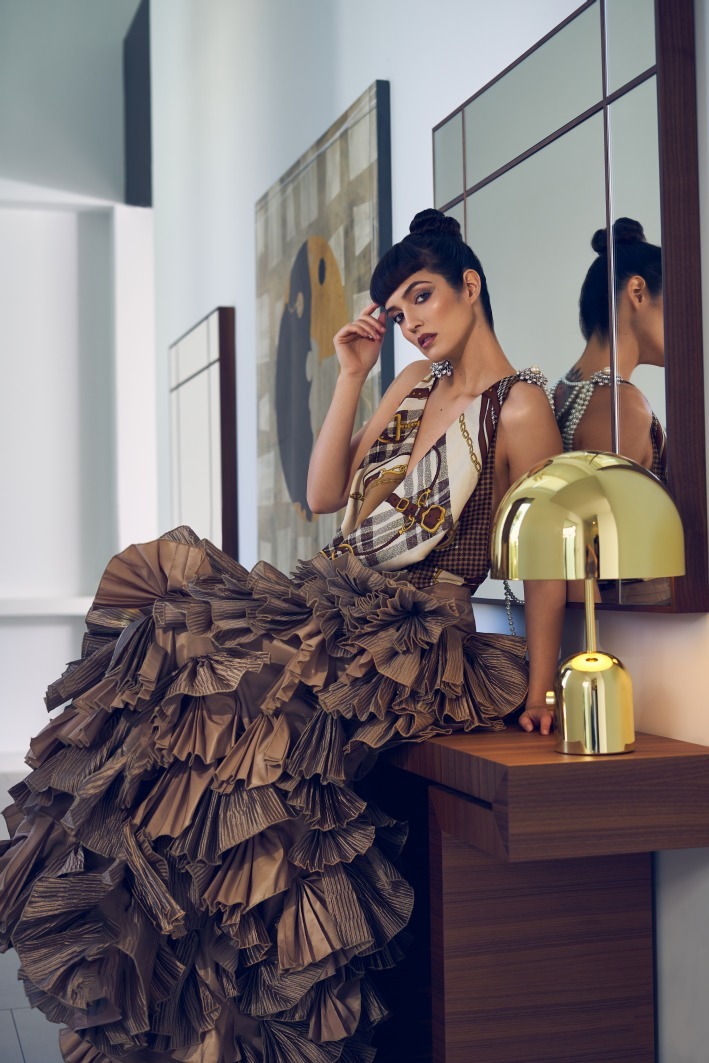 And on a professional level, multifaceted…
Yes! I like having more than one job. I studied clinical diagnostic laboratory, then I studied pharmacy and a postgraduate degree in phytotherapy because I really like medicinal botany. Many food supplements come from natural sources and nowadays people are more interested in natural medicine than ever. In addition, I also work as a model, among other jobs. I am a professional taster, I do product and food studies, and I am now specialized in almonds… It's super fun.
That's incredible! How do you get time for everything?
My schedule at the pharmacy allows me to have free time every morning and that gives me a lot of freedom to do everything else. I have time to dedicate to my hobbies and be available for many jobs, especially modeling. Now I am learning to skate, embroidery and I have just signed up for a course in digital drawing and realism… When I am not doing any of this, I enjoy life because I love to enjoy my free time in the mornings. For me, it is very important to enjoy my personal life.
An unusual professional lifestyle…
Yes. I know that most people have only one source of income, but the pandemic has shown more than ever that any unexpected problem can always arise and change your professional life overnight… It gives me the security to have different sources of income, even though my main jobs are pharmacy and modeling.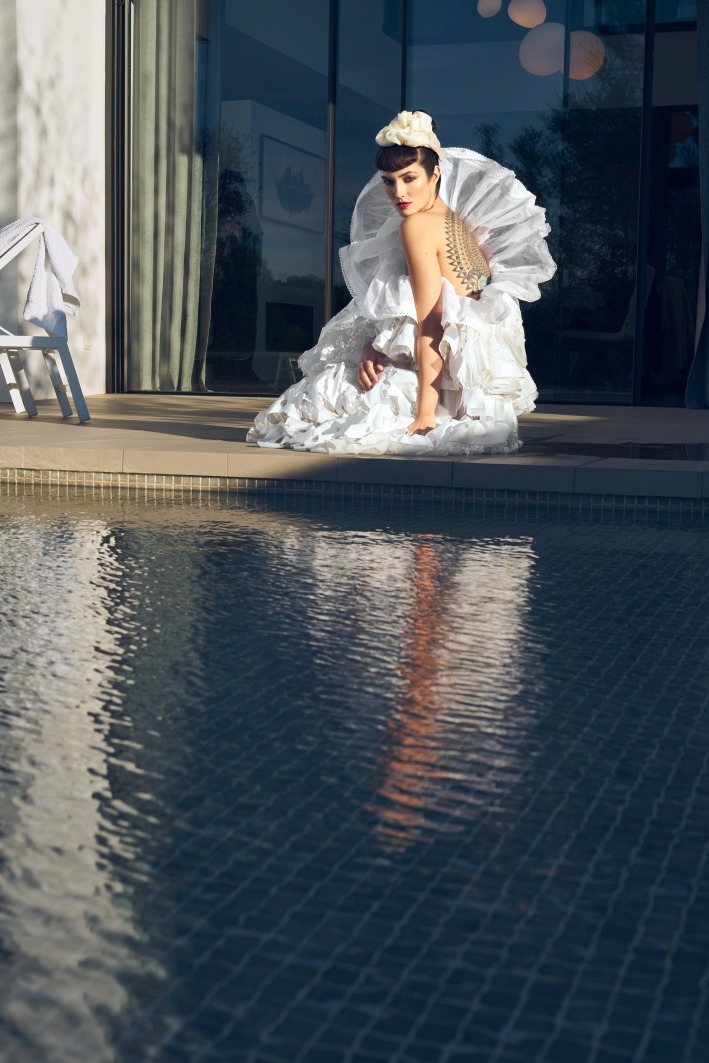 It seems that your head does not get much rest …
Absolutely! In fact, I often have trouble sleeping (laughs). When there is something that I really like or I have a new project, I am unable to find the disconnect button.
When did your modeling adventure begin?
I started as a model twelve years ago, before I got tattooed and I started the way I think a lot of people did: for no reason at all, just to have fun. My cousin was very fond of photography, he had good cameras and we started playing and taking photography. At age 22 my life changed radically. It was when I got the tattoo on my back when everything really kicked off. I did many collaborations, I did some nudes… I remember I started to put reduced rates because I was a beginner and I did not have much experience. I had always believed that I could not ask for a lot of money until I had developed well as a model. Eventually, I joined the @Suicidegirls community, which I had been following for years because I loved seeing those beautiful tattooed girls. I thought I would love to be like them… So I contacted the staff photographer and offered to collaborate. I took some photos with him and one of the photos got to different agencies that were interested in my profile.

How would you describe your profile?
I am aware that I do not have a conventional model profile, firstly because I am tattooed, secondly because I do not have the classic model measurements and I love how I am, but I am not the typical stereotype. I'm a business model, not strictly a fashion model, I'm not the typical mannequin.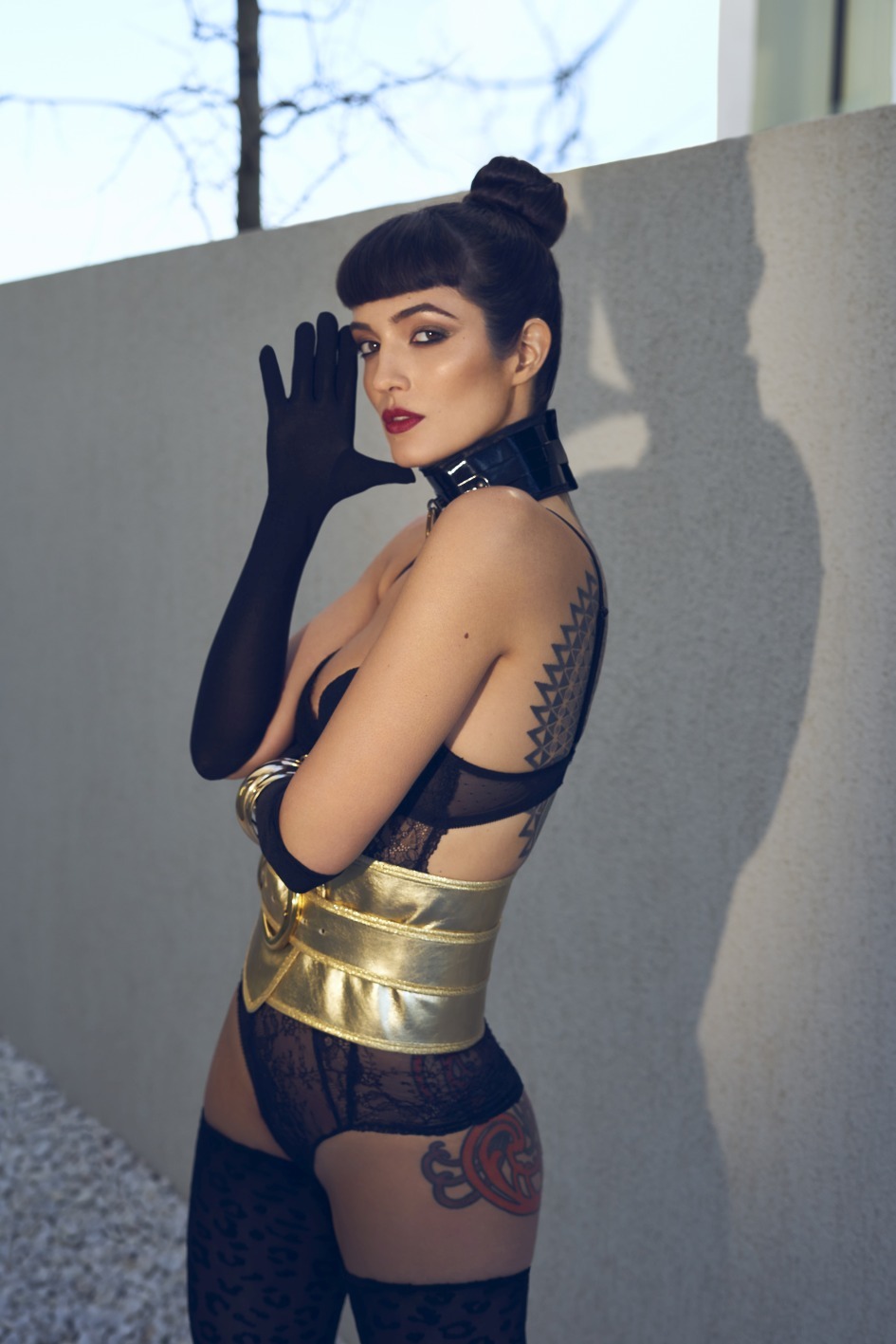 "Thanks to modeling I have been able to regain my self-esteem one hundred percent."
How has modeling influenced your life?
Very much. Before I was a girl with many insecurities. Thanks to modeling I have been able to regain my self-esteem one hundred per cent. In addition to all the nice comments I receive, I have also made super important changes in my life. In the past, after leaving a toxic personal relationship, I used makeup every day, I was wearing miniskirts… however, I have gone from worrying about my appearance and image to not thinking about it. I am a normal and ordinary person who when she works is a model, but outside of work she may not seem like it. Now I always wear a tracksuit, sneakers, a ponytail and glasses. I'm comfortable and I already feel very pretty like that and that was unthinkable years ago.
Tell us about your spectacular tattoo…
I have always really liked tattoos. When I was 21 I started getting my back tattooed. I was fortunate to find a tattoo artist who advised me wonderfully and I will always be grateful for his advice. The drawing is very artistic because I have always liked art a lot. My father is an artisan jeweler and he likes to draw very much, he designed jewelry and made it at home. My tattoo is inspired by the painting "Job" by Alfons Mucha, a brand of cigars. In the drawing, I changed the paper from a cigarette to a bird because for many years of my life I felt like a caged bird. I felt like I had to get this drawing tattooed for many reasons.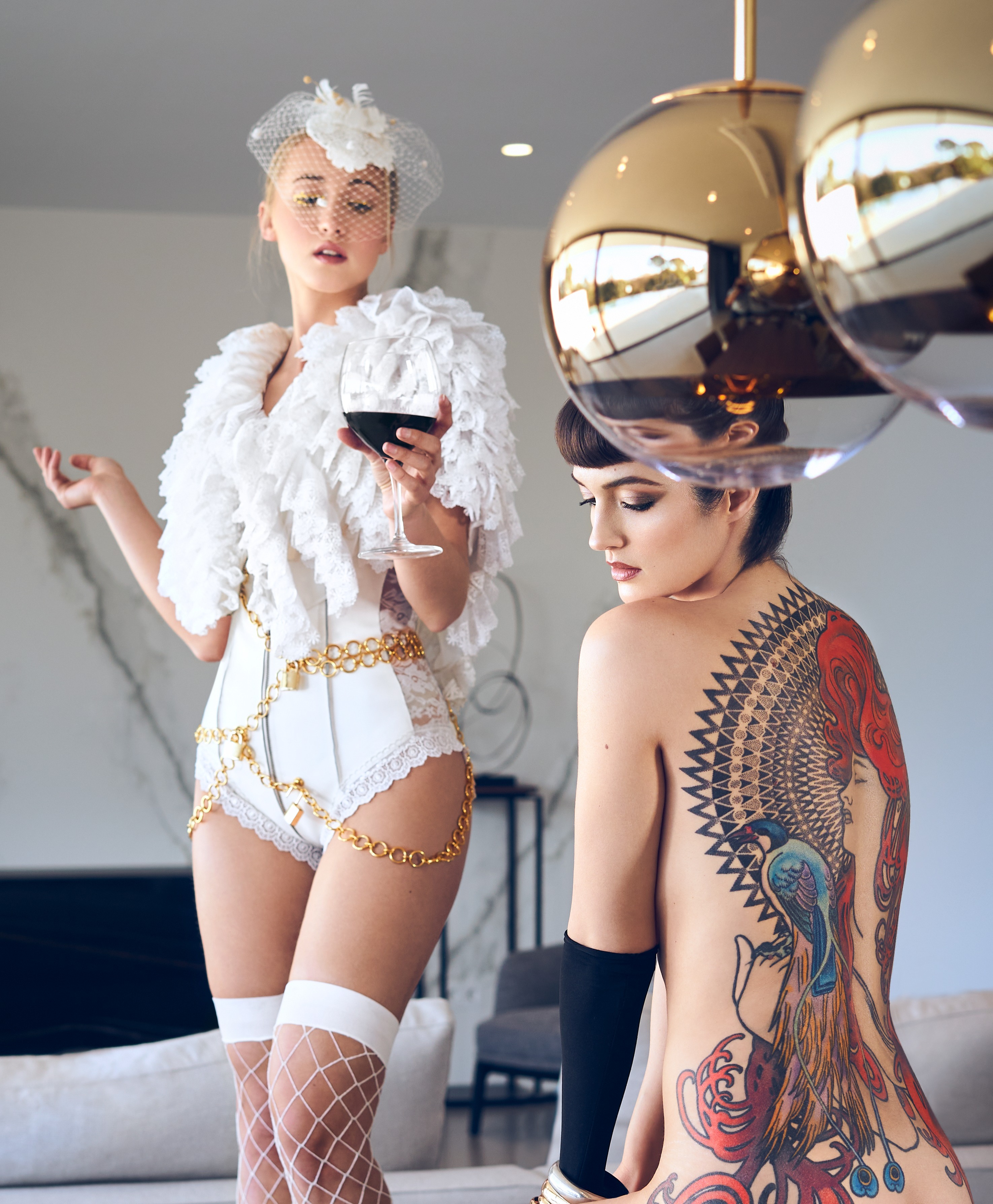 Can you tell us some of its meanings?
Yeah, right! It has many meanings: Modernism reminds me of my father because he was focused on modernist jewelry and because of our family history. I put a crown with jewels on the girl for my parents, some olive branches for my mother, who is from Andalusia. Also, the bird has feathers that end in the shape of two inverted hearts, related to the old sentimental relationship I had. The hand has a lot of prominence because it represents touch, which is a very special sense for me, as well as manual work, ceramics, cooking, embroidery… The expression on the face is between pensive and orgasmic, with eyes almost closed… I love my tattoo and it changed my life completely.
I discovered ModelManagement.com searching the Internet for platforms for models and when I entered the platform I really liked it and I registered that same day. After a while, they were looking for ambassadors and they asked me for a video where I would explain my experience as a model. When I did it they liked it a lot and we continued to collaborate. Then, one day they asked if I was interested in doing a photo session with two more girls and I gladly accepted.

How was the session?
It went very well even though we were very different. I felt very comfortable and secure posing, I already had experience and the gestures and modeling itself are becoming more and more internalized in me because over time you learn everything. It is a process, nobody is born taught.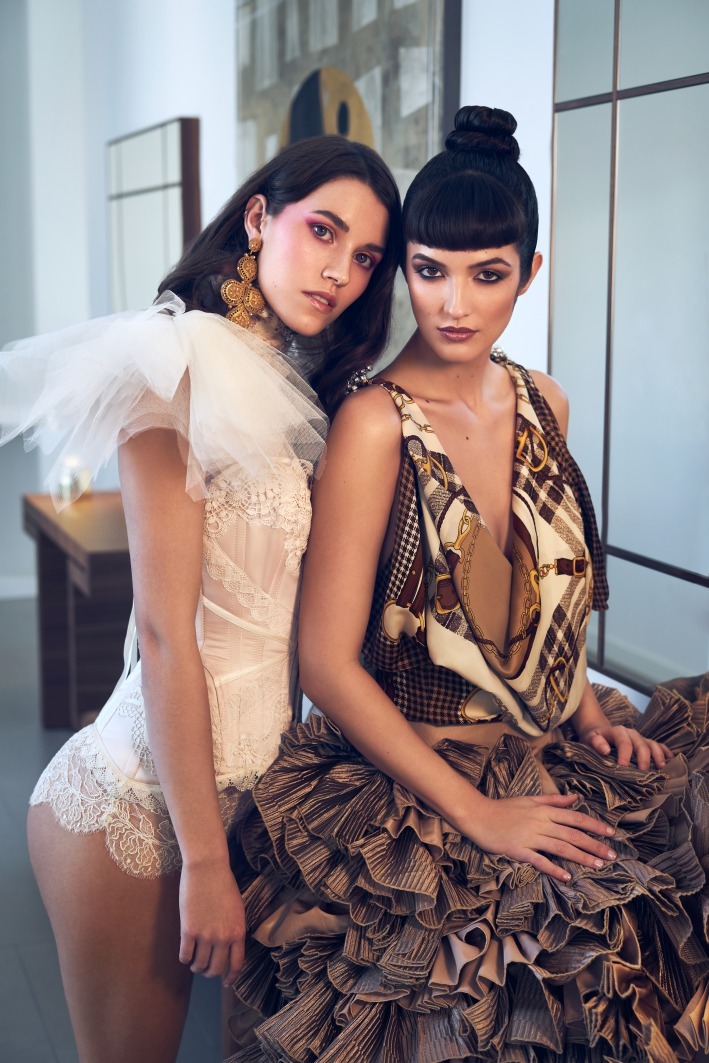 What would you highlight about the concept of ModelManagement.com?
It gives a lot of freedom and there are opportunities for everyone. I like the platform because you find a lot of variety and you can decide what to do and what not to do, and that is very important. I would also highlight the fact of being able to work online, not having to go to a place physically is an advantage, being able to do a casting from your home, for example, gives a lot of peace of mind and security. The digitization of this work is very cool because you can cover a wider range of opportunities without having to travel or waste time. That is why I think that Modelmanagement.com offers a great service because through my mobile I can show how I move, how I gesture… In addition, I really like that everyone has a place on the platform, without being marked by specific measures or fees.
"Anyone can be a model, there is a market for everyone, regardless of physique or age"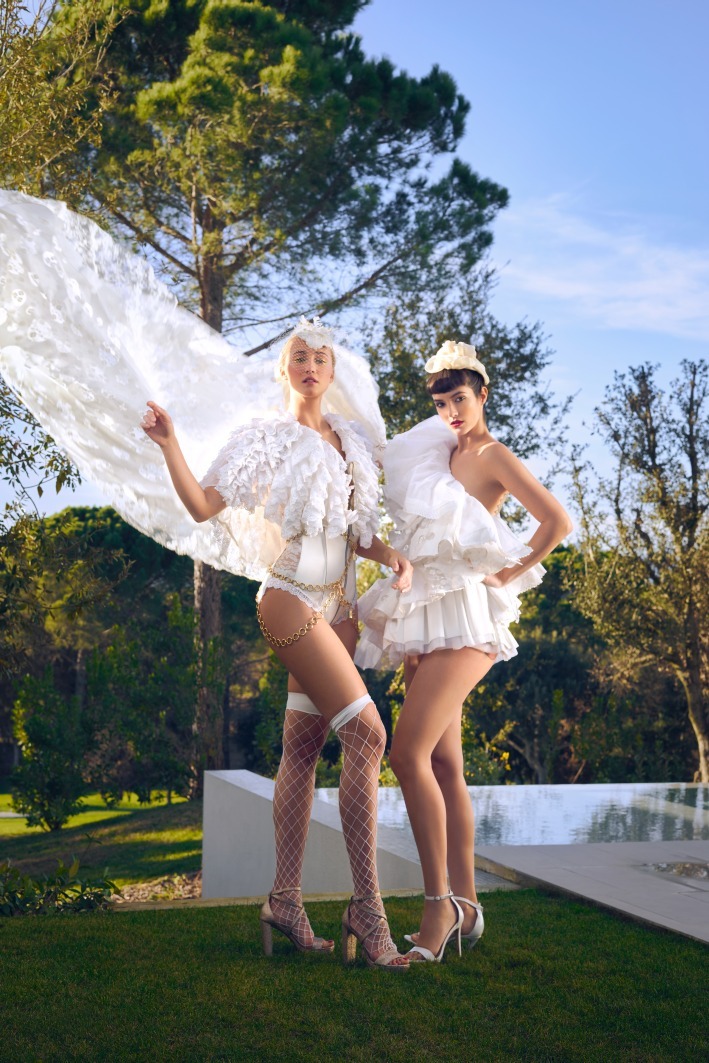 What is your future in Modeling?
I want to dedicate myself to it for many more years. Maybe I will stop in 2023 because I have the dream of traveling around the world, I really love to travel. But the truth is that I think I will continue working for a long time because I have always known that I do not have the profile of a fashion model, but that I am a commercial model. I always tell people that anyone can be a model, no matter how you are physically, because to be a model does not depend on your physique or age. If someone wants to make money as a model, they can. There are people who believe that if I gain weight I will no longer be able to be a model and that is not true, there is a market for everyone. This can be said for women who have children. In my case, I do not want to have children or get married, but it is important to emphasize that, continuously, because I am a woman, I am asked about this topic. I think there is life in the modeling world after giving birth, you can always get back in shape or find commercial modeling jobs regardless of your physique.