The height question is one that we hear often in the fashion industry and, believe it or not, it is one of the biggest misconceptions stopping lots of potential models from having a successful career in the model industry. Success is possible...
The height question is one that we hear often in the fashion industry and, believe it or not, it is one of the biggest misconceptions stopping lots of potential models from having a successful career. Success in the Modeling Industry is possible, regardless of how tall you are.
Whilst there is no doubt that catwalks require more often taller and slender figures, recently, following the boom of the personality cult, blogs, 'It girls' and bloggers, we have seen lots of petite models on the rise – as well as celebrities! – who despite their height have managed to become a tall order in fashion.
Who? You ask. Here we bring you some fabulous, stylish and very inspiring examples.
"Because you are worth it"
Desperately gorgeous petite actress and model Eva Longoria (about 5′ 2″) joined the towering
supermodel heights of Claudia Schiffer (5'11″!) starring – Just like Claudia – in countless of L'Oreal ads…
… and it isn't just L'Oreal that Eva sold us, but lots of other super brands too like: Hanes, Heineken, Magnum, Microsoft's "I am a PC" campaign as well as campaigns for London Fog.
Wikipedia reports that based on her earnings within June 1, 2009 to June 1, 2010 Longoria was ranked No. 4 on Forbes Prime Time's 10 Top-Earning Women. Not bad for a petite girl huh?
Whilst there is no doubt that supermodel Rosie Huntington Whiteley is a knockout and that she looks absolutely stunning in all her Agent Provocateur ads, to date, no supermodel can beat Agent Provocateur's number one viral advert, starring the goddess that is Kylie Minogue (at 5'1″!)
One of the most stylish and cool girls States side – muse to designers and adored by bloggers and the creative fashion/art crowd alike – is the gorgeous blogger/model Olivia Lo. Check out her lookbook.nu (here) and join us at falling in love with her free spirited, experimental and fabulous style!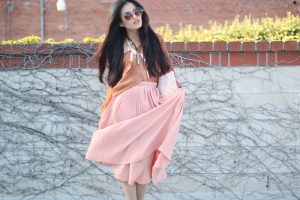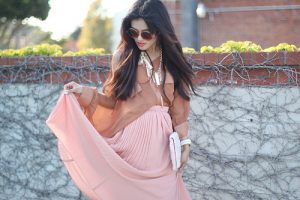 Olivia makes you crave absolutely everything she wears and the last thing you think of when you see a picture of her is how tall is she? Instead you find yourself saying: I want that!
So, is height as much of an issue to become a model now as it used to be years ago? We think not.
Designers are becoming aware of the impact that highlighting the individuality and personality of their models has, showcasing the characteristics that make them unique and make them shine for who they are.
Success – now more than ever before – can be created if you know your strengths and your limits very well and you take advantage of the incredible free resources that both professional and aspiring have available nowadays.
ModelManagement.com helps both aspiring and established models make the best out of their modeling careers by offering a fantastic platform for exposure, networking and a real industry community, where you can connect with fellow models, photographers, agencies, make-up artists, etc. and get to know the industry too.
Here at ModelManagement.com you can find different types of exposure; from a free professional looking profile for beginners to professional premium upgrades, maximizing your exposure and reach if you want more visibility and many more advantages. You can also find services such as castings, the Model Academy and lots of free modeling tips and advice from industry professionals through our community, blog and social networks.
So if you dream of becoming a successful model, don't let the height issue stop you. Jump on your favorite pair of heels, put on your best fitting jeans, a white or black plain vest top or tee and get some professional polaroids taken.
ModelManagement.com runs photo sessions and model castings internationally! Once you have some good photos, create a free ModelManagement.com model profile and seek feedback.
Top tip: Be resilient, patient, learn from criticism, look for what makes you unique, get to know well your best assets and make the best out of them; and most importantly: let your personality shine through!
Good luck and all the best of success in your modeling career!

PS – If you are a petite model and would like to share your experiences with us please do so in the comments section. We'd love to hear your story!