This post is also available in: Español (Spanish)
Photographer: Andreas vE.
Model: Mariana Quiroga Londoño.
MARIANA QUIROGA LONDOÑO. 23 years old. She was born in Colombia, grew up in Barcelona and lives in England.
Mariana is smart, brave, a fighter and a beautiful person. She is a scientist and works in the field of bioinformatics. For a long time, she has combined her studies and her professional career with her passion for fashion and modeling, and working as a model on many occasions.
When we talk to her, we can see a smiling and sweet woman, passionate about her work and proud of having come so far in her professional field. She speaks with great satisfaction about her job, for which she feels pure devotion. The more we get to know her, we discover that reaching success was never a bed of roses for her, but with her determination, her desire, and her self-confidence, she is capable of achieving any dream she sets out to achieve despite any adversity. Mariana is resilient and a role model. For this reason, she is the protagonist in our series "Person behind the model", because she represents all the values in which we believe and want to transmit to our users. A modeling career can be combined with some other professions, you just have to put passion and effort into it.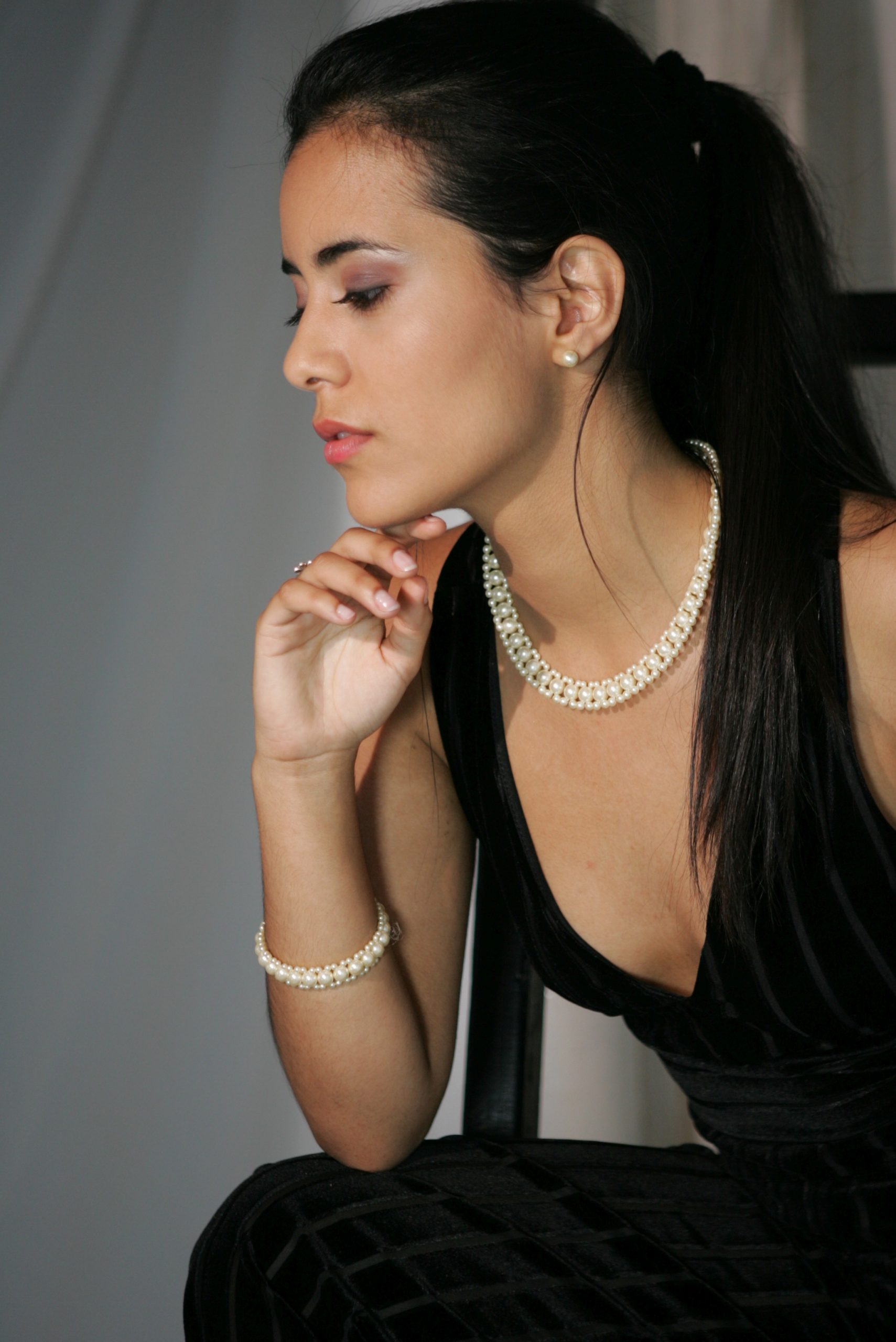 You are a bioinformatician and you are finishing a master's degree at Cambridge… These are big words.
Exactly! I am a bioinformatician and I use computers to understand how stem cells work. When I finished my degree, I had the opportunity to do a master's degree in Cambridge and in October I started my doctorate there as well. These are big words, yes, but these are the goals that I have been setting for so long and that I have been fulfilling little by little, one after another. The truth is that I try to have goals in advance to know what I'm going to do next.
You are very young, have you always had everything so clear? Getting to Cambridge couldn't have been easy.
At the age of seventeen, I became interested in stem cell research. When I found out that I had to do an Erasmus in my degree, I got in touch with Ludovic Vallier, a scientist whom I admire a lot. I wrote to him advising him that after a couple of years I would write to him again to ask if he would accept me in his research team. He loved that, and along with other recommendation letters that I got from labs where I had worked for free in exchange for learning, he had no objection to accepting me on his team.
What relationship do you have with the world of modeling and fashion? Can modeling be a side job?
I have always been focused on my career, but modeling has been a hobby for me and a part-time job that I have been able to combine with my profession. I have always been very interested in fashion and many years ago I discovered ModelManagement.com on Instagram. The funny thing is that they were the ones who contacted me, I caught their attention with my photographs because I was very active on social media. From that moment on, I started using my Premium account and started uploading photos.
"In the field of fashion you have to be proactive if you want to find a job"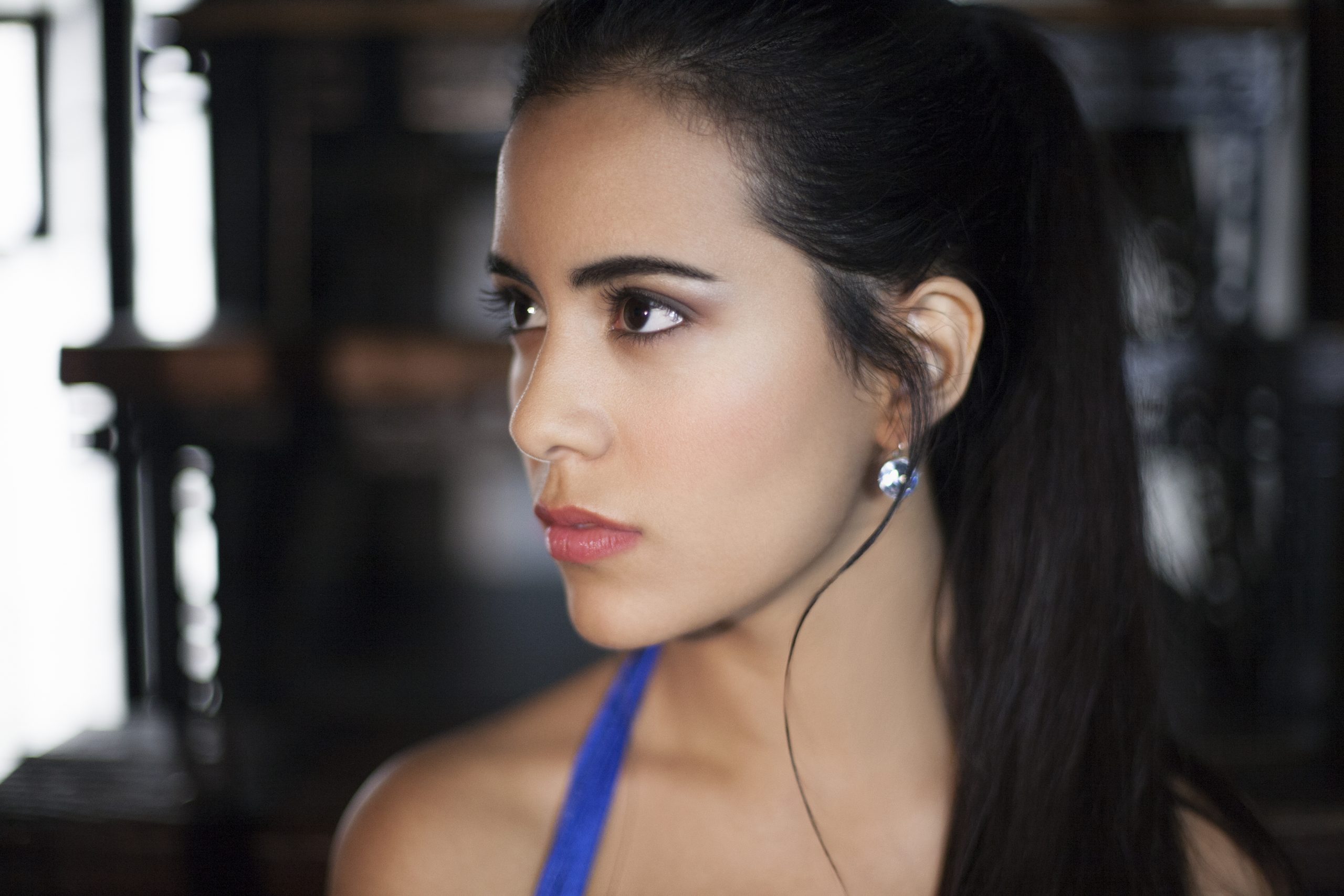 How to get into modeling?
Like anywhere else, in the field of fashion you have to be proactive if you want to find a job. In my case, I caught the attention of Andreas because I posted many photos on Instagram and I wanted to make myself known. It is very important to take an interest in contacting photographers who take good photos of you and post them to your social networks and to your ModelManagement.com account.

How important are social networks to promote yourself on the Internet?
It is an essential tool to give yourself visibility and to create contacts. I have always liked contacting photographers or connecting with people who could comment on my pictures… I created contact networks and that was how ModelManagement.com came to me. They contacted me explaining that they wanted someone to be an ambassador for the platform. This was many years ago, but that's how we started. Obviously, this wouldn't have happened if I hadn't been spending a lot of time being proactive on social media and my ModelManagement.com account. If I had only made an account and nothing else, I would not have reached anyone. You have to work hard to get things, otherwise, it is practically impossible.
How was the shooting with Andreas?
The truth is that I was a little nervous! We had spoken many times but I had never seen him in person. I wasn't nervous about the camera, but about meeting him. At first, I was a little tense in front of him, perhaps because of his figure. But he quickly relaxed me, he is a very natural man, very professional and he made me feel comfortable immediately. He was interested and respected everything I wanted to show or be in front of the camera, he adapted the shooting to my style. I loved it.
In the world of fashion, it seems that there is a fairly stereotypical idea of the concept of beauty, but what is beauty to you?
I don't associate it with the physical. Beauty can be found in many aspects and not just in people. I find beauty in people, but also in landscapes, in what is not tangible and, above all, in people's personalities. It is clear that in some circumstances a pleasing appearance can be an important plus. However, I believe that a diverse mixture is what makes something beautiful, much more than the simple fact that a person is attractive or not.
"I try to show that the reality of a woman in science is the same as men"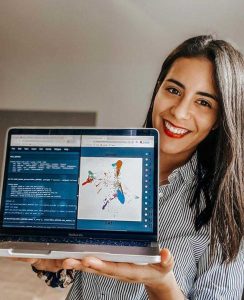 Science has always been associated with a more masculine field… There is still a long way to go to fight against these prejudices.
Above all, it depends on the culture of the people… Some countries are still very backward and have not yet accepted that women are worth much more than being at home and pleasing men. When it is accepted that the women are just as capable, it shocks. I give you an example of my native country, Colombia, where there are many good women in a thousand fields, but who, nevertheless, are still exposed to a lot of sexism. People keep scaring women and putting barriers on their dreams.
When I went to England, everyone asked me if I was afraid of living in another country or if I was afraid to program… I doubt that a man would have been asked these questions because they are portrayed as the brave ones. It has never scared me, on the contrary, and that is why I try to demonstrate through my projects on my social networks that the reality of a woman in science is the same as men. I'm getting very involved in it.
Tell us more about your projects.
During the lockdown for COVID-19, I created a new Instagram account, @marianaql.science, where I write curious scientific facts that begin with "Did you know…?" and above all, I write messages to involve any man or woman in bioinformatics. I want to give to know this term. I want this account to be a boost for all those people who have fears or doubts about whether to move forward with their dreams. I am very happy because many people write me messages of support, thanking me for giving them the strength to trust in their possibilities. They write to me from India, Malaysia, Sri Lanka… Countries in which, because of their religion or culture, since they were children have been afraid of fighting for their dreams or leaving their comfort zone. When they see a normal girl like me, who has been able to achieve this, it motivates them greatly and it's wonderful to be a part of that.

Sounds great!
I'm very happy! Furthermore, my friend Paula and I have created a platform @codeforachange with which we intend to provide solutions to all those people who do not have easy access to education due to not having the resources or they are not encouraged to study because they are women. Thanks to this platform, kids can program in an interactive virtual book and learn so many things. On this platform, they can make mistakes and put into practice logical challenges that motivate them to learn the basic concepts of genetics.
In addition, I have another section dedicated to changing lives, because I have been able to get to where I am thanks to scholarships and crowdfunding campaigns. In fact, Andreas donated to my campaign… Now, with the knowledge that I have acquired, I have created this platform to help to raise money for students that I selected from a school in Colombia who are brilliant and love technology… but who don't have money to study. They are students classified in the lowest class, who do not even have access to the Internet. The donation helps these kind of children so they can start programming through the Internet.
"It is very important to have goals in life, something that motivates you to the point of doing whatever it takes to achieve it"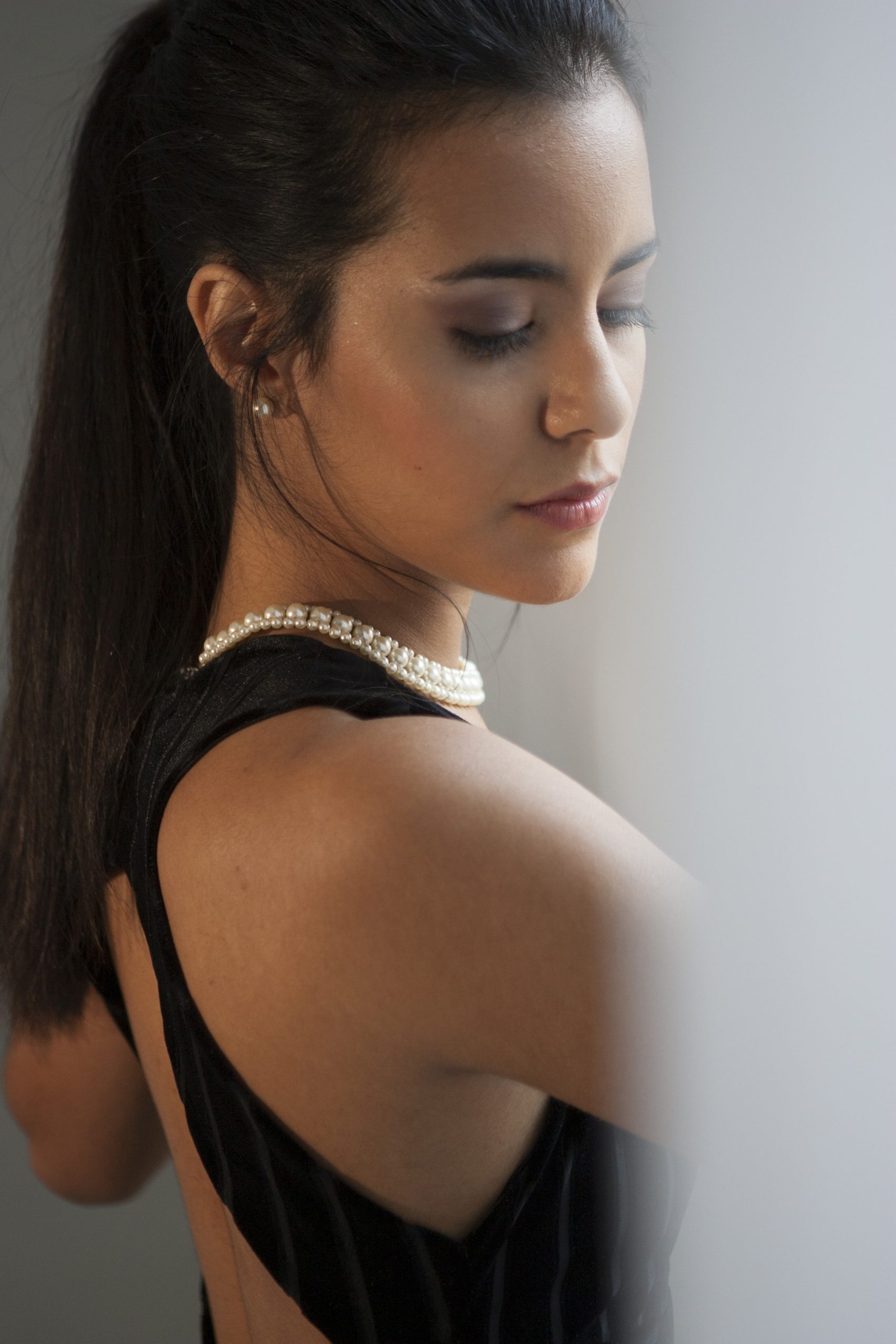 We congratulate you, Mariana, these are fantastic initiatives. I can see that you are a person with many values… What are the fundamental values in life for you?
Philanthropy, of course. Also, I think that it is very important to have goals in life, something that motivates you to the point of doing whatever it takes to achieve it. My main values are perseverance and resilience. There can always be economic, family, and health difficulties, but if you have your goal in mind, you can surely achieve it. It has happened to me. I didn't have the money to study and I have managed to fight for my dream until I accomplished it.
How important is it to have a goal in life?
For me, it is the key to success. The goal that you define for yourself is where your personal success will be. It's not about just getting there, success is built along the way and that's what motivates you. Initially, I wasn't a good math and programming student, but in the end, I managed to stand out. I finished my degree being one of the best students in the class!
I have faced qualifications that were not enough for me, broken relationships, I wanted to give up so many times… I had to ask for professional help and I have gone to three different psychologists. But despite all the adversities, I never gave up and that is why I have come to be where I always wanted to be.
What impresses you the most about your field?
It is not bioinformatics itself, but the field in which I apply bioinformatics. Stem cells are without a doubt what amazes me the most, for me, it is a scientific miracle. I find everything that can be achieved from them fascinating. I'm specialized in those that will form blood, the blood stem cells. Understanding how these cells are the ones that later serve to treat people with leukemia, for example, is incredible. People who have good stem cells in their bodies donate to those in need, and from those donations, patients can create new blood stem cells and be cured. 
Besides, it was discovered a few years ago that an adult stem cell, like those in the skin, can be reprogrammed, they can "go back in time", having again embryonic stem cell characteristics and the potential to become another type of cell. Regenerative medicine and cell therapy are wonderful and this process of stem cell reprogramming could lead, for example, to the replacement of damaged cells.
Amazing! In addition, you explain everything with a lot of passion… After achieving your goals with all your effort, what would you say to all the people who do not dare to undertake their dream?
I would tell them that obstacles exist, they will always be there and that there will be many, an infinite amount perhaps. I would tell them that they will fall many times, feel regret, cry and want to break everything… But the difference between staying where you are and reaching the top is resilience. They shouldn't think about how many tears were left along the way but how much it will be worth it when they get there. Finally, when their goal is reached, they will see that there is always more to do and something higher to work for, however, every new path will continue to have obstacles, it's unavoidable. I wish someone had told me this at the beginning of my career because surely, I would not have cried so much. Yet, much growth can be made when one accepts that asking for professional help is normal and it is fine to share all of your concerns with colleagues and relatives.